CASING SPACERS
---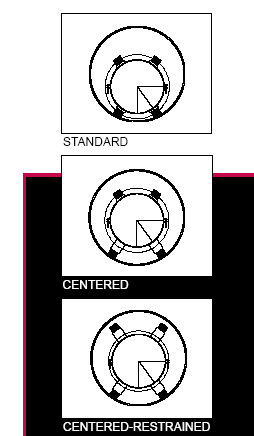 To place and order, please have the following information available:
Casing Spacer Material
(Carbon Steel, Stainless Steel, or Polyethylene)
Configuration:
(See drawing at right)
Standard (Clear Bell Only)
Centered
Centered Restrained
Clustered
Type of Carrier Pipe
Diameter of Carrier Pipe
Inside Diameter of Casing Pipe (or Casing wall thickness)
Outside Diameter OD of Bell ( if applicable)
Width of Spacer, Model Number etc.
Additional information ( for multi-pipe, cluster design)
Model & Quantity of End Seals
Quantity of Spacer*
* Recommended spacing for steel carrier pipe is 6 ft. to 8 ft.
(Typically, length of casing, divide by 6 +2 = # of spacers).
Recommended spacing for PVC type pipe (Bell & Spigot)
is 2 spacers per joint.
---